National Gallery of Art – Sculpture Garden is located  Constitution Ave NW &, 7th St NW, Washington, DC 20408 and offers a lovely 6 acre stroll in the heart of the district.  At its center the space features a monumental fountain that converts to an ice-skating rink in the winter.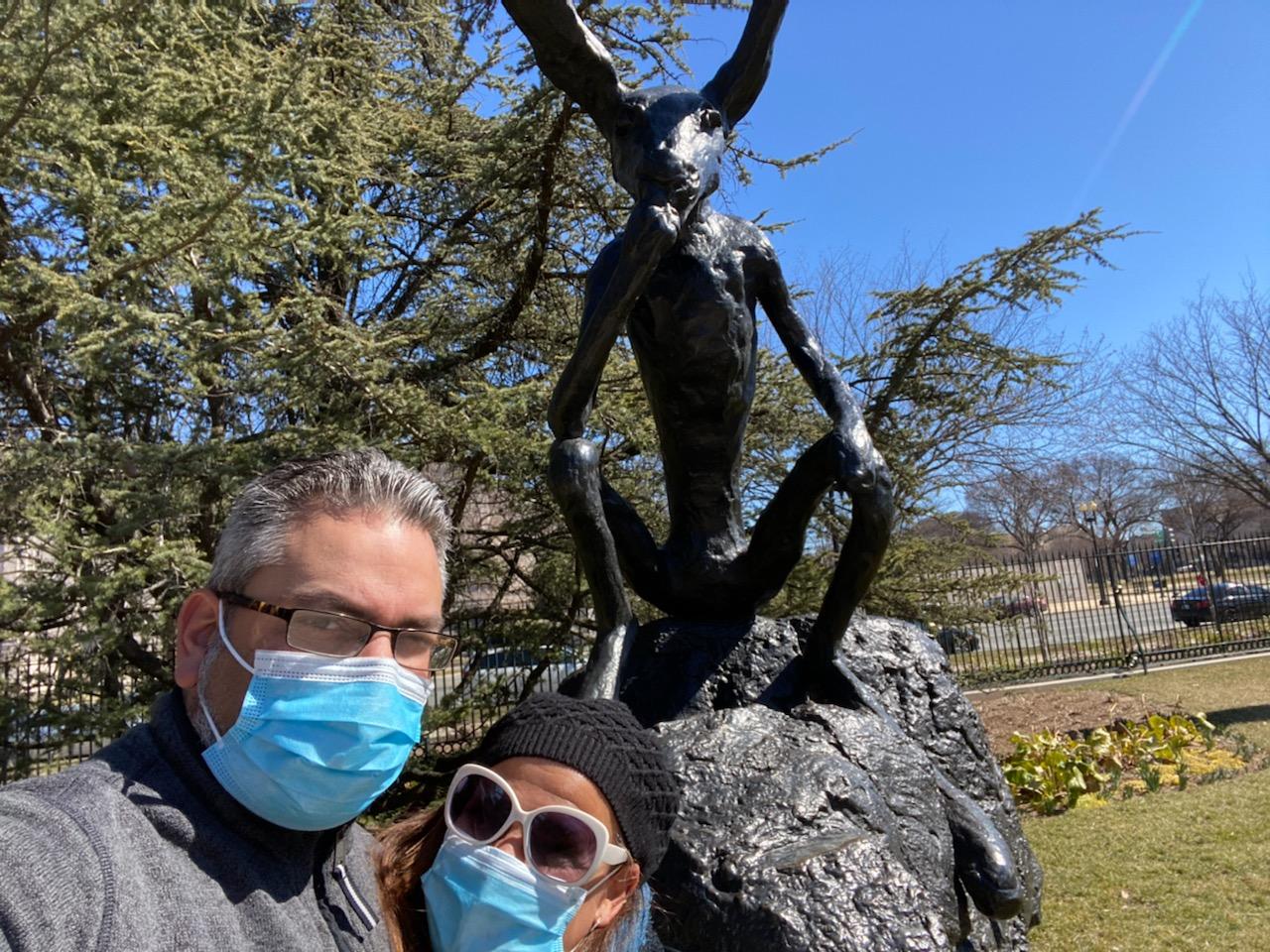 The Sculpture Garden fulfills the centuries-old intentions of Charles Pierre L'Enfant, who, in his designs for The Mall in the 1790s, included a public, landscaped garden on the north side of Washington, DC's "8th Street axis." The plan to add sculpture to this site for a "National Sculpture Garden," as an extension of the Gallery's campus, was announced by the White House in 1966. Planted with perennials, ground covers, shrubs, and flowering trees, the mature landscape design offers a verdant setting for art. Seasonal jazz concerts and ice-skating, as well as both indoor and outdoor dining at the Pavilion Café, offer visitors many different ways to experience and enjoy the Sculpture Garden. source  Open daily 11:00 a.m. to 4:00 p.m.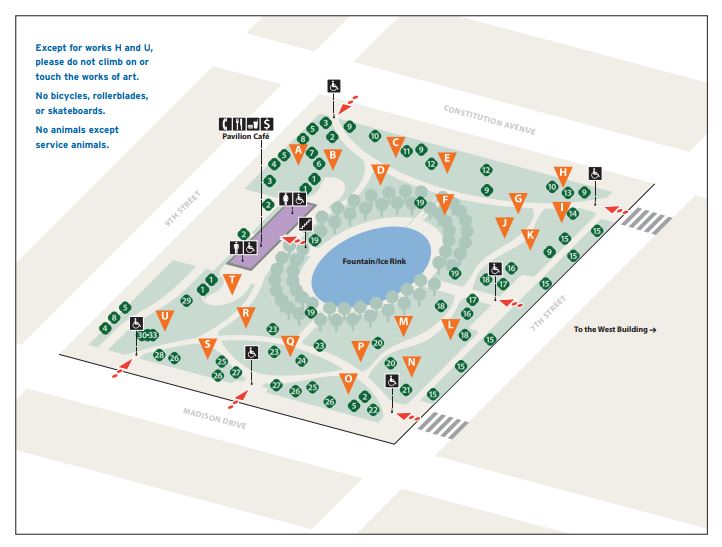 Artwork in the gallery is listed below:
Marc Chagall, Orphée, 1969
Claes Oldenburg and Coosje van Bruggen, Typewriter Eraser, Scale X, model 1998, fabricated 1999
Joan Miró, Personnage Gothique, Oiseau-Éclair (Gothic Personage, Bird-Flash), 1974, cast 1977
Louise Bourgeois, Spider, 1996, cast 1997
Tony Smith, Wandering Rocks, 1967
Magdalena Abakanowicz, Puellae (Girls), 1992
Mark di Suvero, Aurora, 1992–1993
Scott Burton, Six-Part Seating, conceived 1985, fabricated 1998
Joel Shapiro, Untitled, 1989
Robert Indiana, AMOR, conceived 1998, fabricated 2006
Ellsworth Kelly, Stele II, 1973
Barry Flanagan, Thinker on a Rock, 1997
Alfredo Halegua, America, 1970
Sol LeWitt, Four-Sided Pyramid, first installation 1997, fabricated 1999
Lucas Samaras, Chair Transformation Number 20B, 1996
Tony Smith, Moondog, model 1964, fabricated 1998–1999
David Smith, Cubi XXVI, 1965
Alexander Calder, Cheval Rouge (Red Horse), 1974
Roy Lichtenstein, House I, model 1996, fabricated 1998
Roxy Paine, Graft, 2008–2009
Hector Guimard, An Entrance to the Paris Métropolitain, model 1902, fabricated 1902/1913
Hirshhorn Sculpture Garden  located at National mall Washington, DC 20560 is another delightful expression of art.  The collection works with significant additions across a diverse range of media, from painting, photography, and mixed-media assemblage to cinema in the round and immersive Light and Space environments. source  The garden is Open daily 10 AM–4:30 PM.

The artwork on display are:
ARE YEARS WHAT? (FOR MARIANNE MOORE) (1967)
Mark di Suvero, American, b. Shanghai, China, 1933
UPRIGHT MOTIVE NO. 1: GLENKILN CROSS (1955/cast 1956-1957)
Henry Moore, British, b. Castleford, England, 1898–1986
THREE-PIECE RECLINING FIGURE NO. 2: BRIDGE PROP (1963/cast 1964)
Henry Moore, British, b. Castleford, England, 1898–1986
FOR GORDON BUNSHAFT (2006/fabricated 2007-2008)
Dan Graham, American, b. Urbana, Illinois, 1942
THE GREAT WARRIOR OF MONTAUBAN (1898-1900/cast 1956)
Emile-Antoine Bourdelle, French, b. Montauban, 1861–1929
THE BURGHERS OF CALAIS(1884-1889/cast 1953-1959)
Auguste Rodin, French, b. Paris, 1840–1917
SPATIAL CONCEPT: NATURE (59-60 N33) (1959-1960)/(cast 1965)
Lucio Fontana, Italian, b. Rosario, Argentina, 1899–1968
FIGURE FOR LANDSCAPE 1960/(cast 1965)
Barbara Hepworth, British, b. Wakefield, England, 1903–1975
THREE-WAY PIECE NO. 3: VERTEBRAE (WORKING MODEL) (1968/cast early 1969)
Henry Moore, British, b. Castleford, England, 1898–1986
TWO-PIECE RECLINING FIGURE: POINTS (1969-1970/cast 1973)
Henry Moore, British, b. Castleford, England, 1898–1986
GEOMETRIC MOUSE: VARIATION I, SCALE A 1971
Claes Oldenburg, American, b. Stockholm, Sweden, 1929
MONUMENT TO BALZAC (1891-1898/cast 1965-1966)
Auguste Rodin, French, b. Paris, 1840–1917
KIEPENKERL 1987
Jeff Koons, American, b. York, Pennsylvania, 1955
SPATIAL CONCEPT: NATURE (59-60 N29) (1959-1960/cast 1965)
Lucio Fontana, Italian, b. Rosario, Argentina, 1899–1968
THE DRUMMER (1989-1990)
Barry Flanagan, British, b. Prestatyn, Wales, 1941–2009
YOUR OCEANIC FEELING 2015
Olafur Eliasson, Danish, b. Copenhagen, 1967
WISH TREE FOR WASHINGTON, DC 2007
Yoko Ono, American, b. Tokyo, Japan, 1933MONSOON DRIFT (1975)
Anthony Caro, British, b. New Malden, England, 1924–2013
SPATIAL CONCEPT: NATURE (59-60 N28) (1959-1960/cast 1965)
Lucio Fontana, Italian, b. Rosario, Argentina, 1899–1968
SEATED WOMAN (1956-1957/cast 1962)
Henry Moore, British, b. Castleford, England, 1898–1986
SELF-PORTRAIT WITH MODEL AT BERGAMO (1942/probably cast 1948-1961)
Giacomo Manzu, Italian, b. Bergamo, 1908–1991
PITTSBURGH LANDSCAPE 1954
David Smith, American, b. Decatur, Indiana, 1906–1965
ANGOLA II (1967)
Isaac Witkin, American, b. Johannesburg, South Africa, 1936–2006
WALKING MAN (1900/enlarged 1905, cast 1962)
Auguste Rodin, French, b. Paris, 1840–1917
SPATIAL CONCEPT: NATURE (59-60 N18) (1959-1960/cast 1965)
Lucio Fontana, Italian, b. Rosario, Argentina, 1899–1968
CROUCHING WOMAN (1880-1882/enlarged 1907-1911, cast 1962)
Auguste Rodin, French, b. Paris, 1840–1917
WE COME IN PEACE 2018
Huma Bhabha, American, b. Karachi, Pakistan, 1962
EX CATHEDRA (1967)
Beverly Pepper, American, b. New York CIty, 1922–2020
SPATIAL CONCEPT: NATURE (59-60 N30) (1959-1960/cast 1965)
Lucio Fontana, Italian, b. Rosario, Argentina, 1899–1968
PUMPKIN 2016
Yayoi Kusama, Japanese, b. Matsumoto City, 1929
KING AND QUEEN (1952-1953/cast June 1953)
Henry Moore, British, b. Castleford, England, 1898–1986
SUNSET SONG 2003
Susan Philipsz, British, b. Glasgow, Scotland, 1965
Sound installation, running time: 00:08:00
SUBCOMMITTEE (1991)
Tony Cragg, British, b. Liverpool, England, 1949
5 NIGHTS (FROM THE SERIES "THE WEIGHT OF HISTORY") 2014
Reynier Leyva Novo, Cuban, b. Havana, 1983
FIGURE
1926-1930/(cast 1958-1961)
Jacques Lipchitz, American, b. Druskieniki, Lithuania, 1891–1973
EROS, INSIDE EROS (1986)
Arman, American, b. Nice, France, 1928–2005
EVOCATION OF A FORM: HUMAN, LUNAR, SPECTRAL
Jean Arp, French, b. Strasbourg, Alsace, 1886-1966
DOUBLE CANDLE 2018
Sterling Ruby, American, b. Bitburg, Germany, 1972