Sierra Vista, is Spanish for "Mountain Range View" and what panoramic scene it is. Just a little over an hours drive from Tucson visitors can find plethora of activities. A quick read of wiki will outline nefarious residents and the strife between ranchers and ranch hands, miners and businessmen, outlaws and gunslingers. This land was also home of the of the Chiricahua Apaches including Geronimo. The town has a complex history between Ft. Huachuca's 696 black enlisted Buffalo Soldiers and 38 white officers. It is not surprising that the first business opened was a Saloon. Reilly's was conveniently  located just outside the gate of the fort.
Fun facts: Did you know that Sierra Vista had the first ever McDonald's drive-through window in the world?
The city is also known as the hummingbird capital of the world.
Is there a difference between a cave and a cavern? Yes. A cavern is a hollow cavity especially one that is large and mostly underground. A cave is a hollow in the earth, especially one opening more or less horizontally into a hill, mountain, etc.
Kartchner Caverns is an unspoiled geological find. Kartchner is a wet living carbonate cave that contains minerals from six different chemical classes: carbonates, sulfates, oxides, nitrates, silicates and phosphates.  The cavern is considered as one of the top ten caves in the world in terms of mineral diversity. The area is rather humid therefore a jacket is not needed. Tours run every 20 minutes and tickets need to be bought in advance. They are very particular about the care and have tour restrictions. So be there 1 hour in advance of your reservation and no cameras, purses, drinks etc are permitted. Read the details to ensure visit is a success.
When it comes to a list of activities to do the area will not disappoint. One of our favorites destinations was  the Ft. Huachuca Museum. You will need a pass to get on base so pull off to the parking lot on the right side and enter the side building. The paperwork is simple and only took a few minutes allowing us to be on our way. The museum is located deep into the secured area. Our GPS led us to a playground so follow the signs. The cemetery is a peaceful parcel of land. They have a computer aided search tool at the gate to find your loved one. The walking tour can be done in an hour so bring some comfortable shoes.
We headed down to the main drag for some wine tasting and beer sampling. The sampling room at Hoppin Grapes and Beer offers a cozy vibe and friendly staff. This is a perfect date night or friends get together establishment. Their selection is vast satisfying a libation for all palates. The only suggestion would be to have a description of the samplings.
Miracle Valley has a picturesque view of The Coronado National Forest . While gallivanting in the area we came across some local tragic history. Read about the Christ Miracle Healing Center and Church (CMHCC) . The aging facility is just off highway 92 a 20ish minutes outside of Sierra Vista. I stopped for a brief picture as signs are posted with no trespassing and it appears the property has residents. This unfortunate incident is said to have been started when a van carrying four church members exploded and overturned killing Steven Lindsey, 21 years old, and injuring his companions. The series of events end with the shooting of William Thomas Jr. and Arguster Tate along with Deputy Jeffrey C. Brown.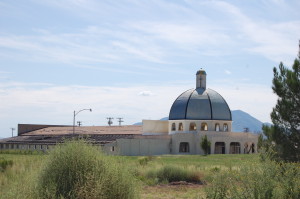 Ramsey Canyon offers a full day of breath taking hikes and nature. The trailhead starts at the dead end of the road. There are some cabins and inns just keep driving until you reach the parking lot. Spaces are limited parking wise so you might want to get there early. We had a 4 legged hiking friend (a deer) who followed us along the trail. The buildings have been preserved and give you a reminder of that old west frontier living. The hummingbird watching stations are well positioned along the path. Stop and rest along one of the many benches and see nature. The creek is a peaceful backdrop noise.
The town of Bisbee is worthy of a full weekend trip of its own. We just had an afternoon so we made the best of the time we had. Bisbee in 1880 was founded as a copper, gold, and silver mining town. The town got its name named in honor of Judge DeWitt Bisbee, one of the financial backers of the Copper Queen Mine. Lowell is a small town area on the other side of the Lavender Pit Mine next to Bisbee. The landmarks offer 2 blocks of empty storefronts and classic cars. The area is only a few blocks so take the roundabout turn and snap a few photos.
Eating at the Copper Queen Hotel is a must. The deck is the prime spot to watch visitors passing thru the city while eating some lunch. The lobby is preserved so it's taking a step back in time. There are plenty of local pubs and local micro breweries to sample with the locals. One of my favorite places is New York Stock Exchange. The patio is perfect for sipping a cocktail while people watching. Bisbee is also home to Old Bisbee Roasters. Swing by their location and see how passionate Seth is about his beans. The rich flavors and wide variety will have a cup to please all java lovers. There are dozens of antique shops and local artists selling their creative goods. There is a ghost tour, a museum and mine tours so plan for more than just a day trip.